UNCHAIN MY HEART (The Story behind the song)
Bobby Sharp, 88, of Alameda, passed away on Monday, January 28 (2013) His passing marked the end of a life filled with generosity toward friends, colorful storytelling about mid-century times in Los Angeles, New York, and California, and a long songwriting career highlighted by his 1961 hit, "Unchain My Heart."

Bobby was born in 1924 in Topeka, Kansas, and after spending his early years in Lawrence, Kansas, moved to Los Angeles to live with his grandparents. His parents, Louis and Eva, had gone to New York to pursue career dreams they thought could be realized only in that city, things being what they were in the face of the Depression. His father, a concert tenor, won small roles on Broadway and at the famed Lafayette Theatre in Harlem, the same stage where Orson Welles had produced Macbeth with an all black cast. His mother became active in the National Urban League Guild and a lifelong friend of its founder, Mollie Moon. Then in 1936, at age 12, Bobby joined his parents in New York.

Despite the hardships of the Depression, the family enjoyed a rich cultural life surrounded by people who were making things "happen," experiences that would later provide a spark for Bobby's songwriting talents. Their home at 409 Edgecombe Ave., on top of Harlem's "Sugar Hill," was a gathering place for prominent figures of the Harlem Renaissance. Walter White, founder of the NAACP, Roy Wilkins, NAACP leader for nearly 25 years, and Aaron Douglas, the Topeka-born father of African-American art, all lived at 409 Edgecombe. Duke Ellington was a down-the-street neighbor. Poet Langston Hughes, Eddie Matthews, who performed baritone in Porgy and Bess, and Thurgood Marshall, then a young lawyer, all were part of young Bobby's extended family. Eva loved to entertain, and with only a hotplate and a few utensils, she somehow managed to host large parties for everyone in their two-room apartment. In those days, Depression or not, people would always get up and sing, and those songs got Bobby interested in music.

Bobby joined the Army in 1943, served in the 372nd Infantry regiment stationed in New York City and Ft. Breckenridge, Ky., and after getting out of the service, used the GI bill to study music, first at the Greenwich House Music school (for the fundamentals) and then at the Manhattan School of Music (for harmony, theory, and piano). His impetus for getting serious about learning the craft had come from family friend and famous bandleader Sy Oliver, who said, "Take lessons," when the 20-something Bobby asked, "How can I learn to do what you do—make real songs and write them down?"

For the next few years, Bobby ran up and down Broadway and Tin Pan Alley, trying to get songs published. He hung out in bars like Harlem landmark Small's Paradise, meeting other hungry songwriters. He read books and poems—even the thesaurus—as he put down tune after tune.

Then in 1956, he recorded his first commercial success, "Baby Girl of Mine," which was later covered by Ruth Brown. During the 50's and 60's his tunes were recorded by such leading artists as Sarah Vaughn and Sammy Davis, Jr. and, of course, Ray Charles. Bobby also played several gigs with jazz and big band greats Benny Carter and Jimmie Lunceford, and along the way, he worked with a score of famous songwriters—Charlie Singleton, Leslie McFarland, Jerry Teifer, Aaron Schroeder, Mel Glazer, and Dan and Marvin Fisher. Among his many friendships was the one he struck up with novelist James Baldwin when he wrote the song Blues for Mr. Charlie, after seeing Baldwin's searing Broadway play about race relations in America.

Although Bobby had sold all the rights to "Unchain" in 1963 for a very small amount, he didn't learn till later that he'd been cheated out of royalties from the song. He sued, and seven years later, the courts awarded him judgement. Typical of his generosity, he included a sizable sum from the court settlement to the friend who had tipped him off about the stolen royalties. He renewed the copyright for "Unchain My Heart" in his own name in 1988, one year after Joe Cocker reignited its hit status.

By this time, Bobby had more or less retired from the songwriting business; he'd moved to Alameda, California in 1980 after an earlier short stay in Lafayette, and began working as a substance abuse counselor at the Westside Community Mental Health Center in San Francisco. He retired from counseling in 1988 and didn't give much thought to the music business for a number of years following.

But then in 2005, Bobby got back in the music business again briefly when at age 81 he released his debut CD "The Fantasy Sessions"—playing the piano and singing his own tunes.

Bobby's stories, his bright, "I'm hangin' in there," and years of generosity to friends and strangers alike will be sorely missed.
Unchain My Heart (song)
From Wikipedia, the free encyclopedia
"Unchain My Heart"
Single by Ray Charles
B-side "But on the Other Hand Baby"
Released       November 1961
Format 7" 45 rpm
Genre  Rhythm and blues
Length 2:52
Label   ABC-Paramount
Writer(s)       Robert Sharp, Jr., Teddy Powell
Ray Charles singles chronology
"Careless Love"        "Unchain My Heart"   "I Can't Stop Loving You"
"Unchain My Heart"
Single by Joe Cocker
from the album Unchain My Heart
Released       1987
Format 7" 45 rpm
Genre  Blue eyed soul, hard rock
Length 5:04
Label   Capitol
Writer(s)       Robert Sharp, Jr., Teddy Powell
"Unchain My Heart" is a song written by Bobby Sharp (1924-2013) and recorded first in 1961 by Ray Charles and in 1963 by Trini Lopez and later by many others. Sharp, a drug addict at the time, sold the song to Teddy Powell for $50. Powell demanded half the songwriting credit. Sharp later successfully fought for the rights to his song. In 1987, he was also able to renew the copyright for his publishing company, B. Sharp Music.
The song was a hit for Charles when released as a single in late 1961. Accompanied by his Raelettes, Charles sang about wanting to be free from a woman "who won't let (him) go". His band included longtime saxophonist David "Fathead" Newman. The song reached number nine on the pop singles chart and number one on the R&B singles chart and was the working title of Charles' 2004 biopic Ray.
Covers[edit]
In 1963, doo-wop band the Rivingtons covered "Unchain My Heart" on their Doin' The Bird LP. Trini Lopez covered it on his debut album, Trini Lopez at PJ's.
The track was further popularized by Joe Cocker when he named his 1987 album after the song. His version of the song was re-released in 1992 and reached #17 in the UK. In Australia, the Howard government used the Joe Cocker version to promote the television advertisements for the introduction of the Goods and Services Tax (GST) in 2000.
Another a cappella group, the Bobs, recorded a version in 1994 and George Williams released a version on his Shades album in 2002.
Hugh Laurie recorded a version in 2012 in the Ocean Way Studios. It appeared as a bonus track on his Didn't It Rain album.
Germany March 2015.
The two shows in Germany this year were really great.
I enjoyed the trip this year a lot more than last year because, (a)…I didn't catch any stomach bugs this time… (it was Wolfy's turn this year) and (b)…the band (Peter Stahl/guitar & vocals, Armin Rühl/drums, Wolfy Ziegler/bass guitar and myself) was absolutely "HOT"…it felt great and it just ROCKED like hell!
The Friday Night Igels & Gerry Lane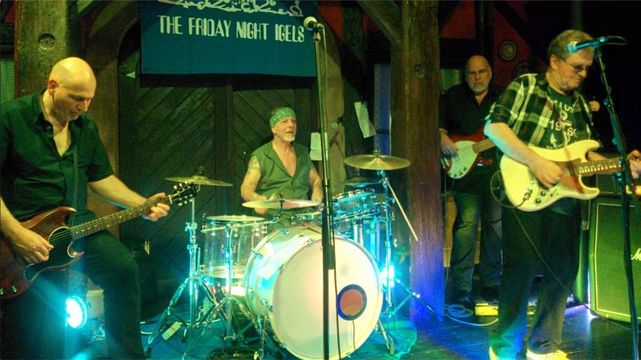 Just like last year, I left GC on Wednesday the 4th in the afternoon at 17:30 and I arrived at Frankfurt at 23:00. Again, Wolfy Ziegler was there to meet me and as I came out of the arrival hall, I knew directly that Wolfy was looking a little sick. It turned out that, he had the same stomach bug that I had last year but, being the absolute professional that he is….he just carried on and worked/rehearsed/played and, rocked…as he always does!! GREAT!!
We stayed again this year with Ula in the "Gästehaus Weingut Schubar" in Weisenheim which is a great guesthouse with a really good breakfast and it feels just like home away from home. I made a new friend this year at the guesthouse….her name is Emily.She sat by my chair at breakfast every morning so; I would give her a little food and I think that eventually….she ate more that I did! When I didn't give her some needed attention…she would nudge my leg with her nose and, when that didn't work…she would bark….hahaha!!
Emily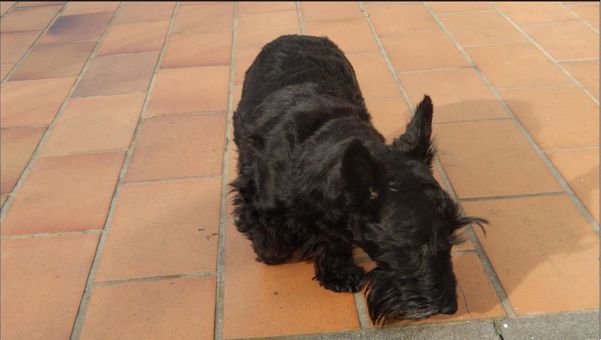 This year, I didn't take my own guitar with me (€60 each way…€120 in total….for a guitar"???? …CRAZY!!) so, Peter Stahl very kindly gave me one of his guitars to use….(a really nice modified Fender Strat) and, I spent Thursday afternoon changing the strings etc and setting it up and, just getting used to playing it because, every guitar is different and, has its own character so, it's always good to spend a little time on it….just to get to know it a little bit better.
The Guitar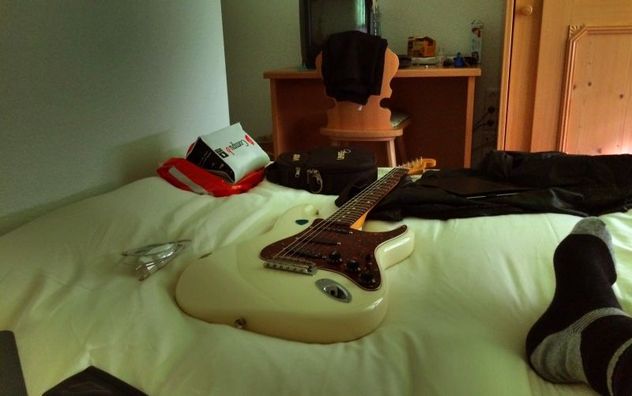 Thursday morning after breakfast, our good friend Max took us to a beautiful little town close to Weisenheim-am Sand called, Freinsheim which is a town in the Bad Dürkheim district in Rhineland-Palatinate, Germany. When we were there it was really quiet, beautiful and….SO COLD…just 3°C but, Max told me that, in the summertime it is absolutely packed with tourists so, I was lucky to see it at this time of the year.
Freinsheim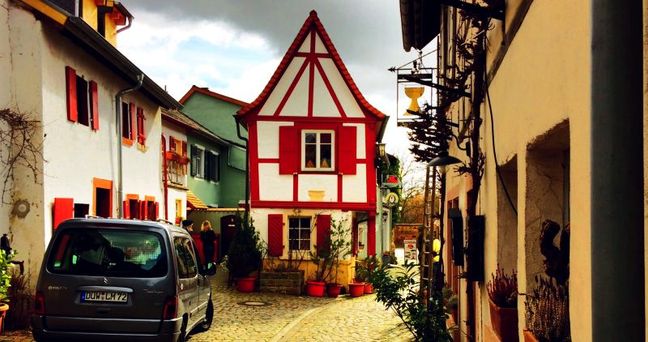 Thursday evening after dinner at 18:00 in The Crazy Horse, Wolfy and I went to rehearsals at Peter Stahl's house. We rehearsed from 20:30 until 00:00 which is quite a long time for me seeing as how, I absolutely hate rehearsals but, we had three new songs to learn this year so, we needed to do the work.
Friday night in The MUK (After Work Party) at The Adler in Weisenheim was again sold out this year and, it was a really great night. Thank you Klaus and Peter for inviting me to play again and for the really nice dinner before the show. I absolutely love this gig. It is small and intimate and such a great atmosphere!!
MUK (After Work Party) The Adler Weisenheim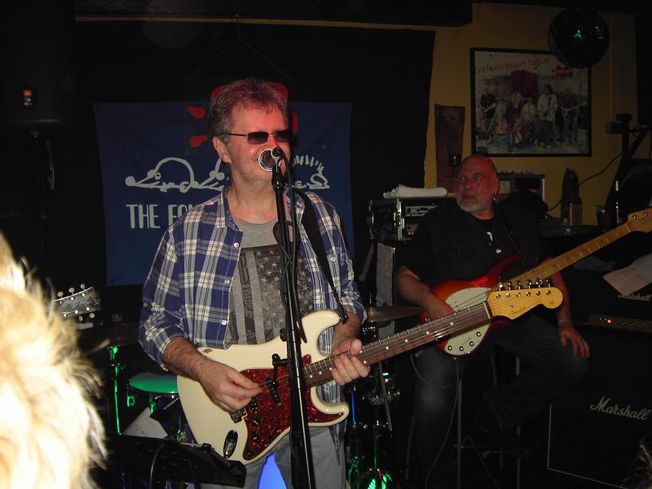 Again this year, I was absolutely amazed, and, extremely thankful by the amount of people who came from so far away…Hamburg, Munich, Berlin, Frankfurt, Holland and would you believe Bristol/England and Norway…it was absolutely unbelievable (and, so many other places as well that I just don't have the space to mention here)… but, these people came just for the gig and, almost all of those people stayed for the Saturday night show as well in Bruchsal.  
The gig at The Bundschuh in Bruchsal on Saturday night was also once again a great evening. This year we didn't have any sound problems and the atmosphere was absolutely electric!! I also have to say a big "thank you" to Hauka and all the staff at the Bundschuh for the great food and for looking after us so well. I was told that, we had even more people this year at the show than last year and, that was great news!!
The Bundschuh Bruchsal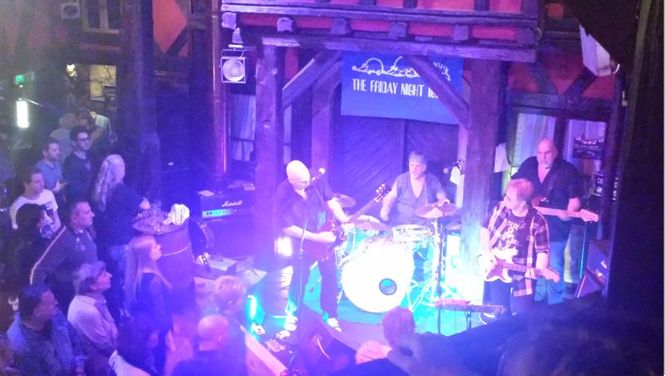 Bob Clayton from Bristol/England and, one of his "one of a kind" t-shirts.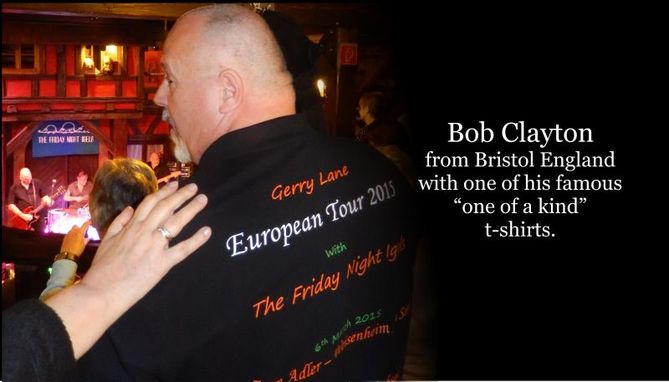 Again this year, we played some of my own songs like, Meloneras Blues, Takes Me Back To You, Busted Loose, La Isla, When It All Comes Down, Till' The End Of The Line, Dangerous Times and, some cover songs from AC/DC, ZZ Top, Whitesnake, Fleetwood Mac, JJ Cale etc .
As I mentioned earlier, we also added three more original songs of mine to the set this year. Cold As Ice and Now That It's Over are two songs from my old band in Ireland from the 1980's called "DRIVESHAFT". Both of these songs will be on a new album that I am recording at the moment with Wolfy Ziegler and, it will be out on the 1st of October 2015.
The other new original song that we played was a song called, "The Writing's On the Wall". (which is about corruption in the world's banking/financial institutions and governments)  and, this song was left over from the "Long Way Home" album sessions and, Wolfy also played bass on the original recording of this song as well. It will be on another planned album due for release in 2016…. (More news on that later on in this year)
The most uncomfortable part of the whole trip… (Just like last year) was the return journey back home to GC. At the best of times, I am not a big fan/lover of flying or planes but, for me….one of the things that I most dislike about travelling is the "AIRPORTS"….I hate those places with a passion!!
So, at 2am, I went to Frankfurt airport with Wolfy….(thank you my friend for taking me there….very much appreciated!!) and, I arrived at the airport at 3:30am. After 4 hours of waiting around, the flight finally took off at 07:35 and I arrived in Las Palmas at 11am and, eventually getting home at 1pm feeling pretty tired but…happy and satisfied that I had such a good time playing music with three great incredible musicians that I am also lucky enough to call "good friends".
Last but, not least….I want to say a BIG THANK YOU to "everybody who came again to the shows" in Weisenheim and Bruchsal form near and far….I just don't know how you guys do it but, from the bottom of my heart…"I THANK YOU".
So, until we meet again, take care, best wishes and "see ya sometime soon"
Gerry.
Germany February 2014.
My trip to Germany was short and fast but enjoyable.
I left GC on Wednesday afternoon at 17:30 and I arrived at Frankfurt at 23:00.
I was a shock to my system for sure because; in Gran Canaria it was 21 degrees and in Frankfurt 3 degrees…COLD!!
My good friend and "brother n rock" Wolfy Ziegler was there to meet me and we drove to Weisenheim (about one and a half hours) arriving there at about 1:30am.
On Thursday, (after breakfast at the house of some very good friends of ours Max & Karin) we drove through the Rhine Valley to Heidelberg.
The city is absolutely beautiful although, I only got to see a small part of it…the "Old Town" area right beside the Neckar River, the Old Bridge and Heidelberg Castle.
On the way back, we stopped in Speyer City to see the beautiful Cathedral, and the Old Gate.
Thursday evening at 18:30 we went to dinner with friends Max and Karin and at 20:00, we arrived for rehearsal at Peter Stahl's house (guitarist with Wolfy and Armin).
We worked from 20:30 until 23:30 and then, back to the guesthouse…and everything was fine!!
But, at 1am the Gastroenteritis started, (all night long) at 7am the vomiting started and I didn't get to sleep until about 11am Friday morning…. (the day of the first gig) after Wolfy had got me some medicine to take.
At 16:30 I had to go to the Adler to set up my equipment and do a short sound check with the band.
The MUK (After Work Party) at The Adler in Weisenheim is just a great little gig. It is really small…the people were literally just 45/50cm… (Yes, centimeters) away from me but, absolutely enjoying the music, and, not one time did one of them accidentally hit my microphone stand or become aggressive or messy…just a really nice appreciative audience…there for the music and to have a good time.
I was absolutely blown away by the amount of people who came from so far away…(Hamburg 1,160km round trip) Munich (720km round trip) Holland (almost 1000km round trip) and a lot of other places as well…just for the gig and, almost all of those people stayed for the Saturday night show as well in Bruchsal.
The gig at The Bundschuh in Bruchsal on Saturday night was also a good night although, we did have some technical problems with some microphone cables but, the night finished good.
The Bundschuh is a beautiful stone/wooden pub and restaurant and, on Saturday night….it was FULL.
At times, it was like being in the 19th Hole in GC because, every time I looked out into the audience all I could see were the faces of people that I have met over the last 10 years in the Hole…it was unbelievable!
At one point I asked; anybody here from Gran Canaria?.....and, the scream and shouting  was just so loud….I couldn't believe it!
Playing with musicians like Wolfy Ziegler (bass guitar), Armin Rühl (drums, from the Herbert Grönemeyer Band) and Peter Stahl (guitar and vocals) is just an absolute pleasure.
These guys really know how to play…they are absolute professionals and it was an incredible pleasure and an honor for me to be on stage with them.
Wolfy Ziegler is just a "groove machine" and the way he just keeps pumping the band all night long is just great, I am so looking forward to recording with him in the future.
I have never heard anyone hit the drums as hard as Armin Rühl. I was standing in front of him on both nights and, it was like, someone was kicking my ass…ALL NIGHT LONG but, his technique and feel is just so delicate and powerful at the same time…it's amazing.
It was my first time playing with Peter Stahl. WOW, what a great, raw powerful guitar player he is and also a great rock/blues singer. I just love his playing….it's like listening to Angus Young from AC/DC….GREAT!
We played a mixture of my own songs, Meloneras Blues, Takes Me Back To You, Busted Loose, La Isla, When It All Comes Down, Para Ti, Till' The End Of The Line, I Believe In You, Hip Grinding Blues and, also some covers from ZZ Top, Whitesnake, AC/DC, Rory Gallagher, Gary Moore, CCR, Rufus Thomas and we even did Rockin' All Over The World from Status Quo.
The big song of both nights was "Till' The End Of The Line" but, especially in the Adler in Weisenheim where the people sang the song louder than the band!
So, the gig in Bruchsal in The Bundschuh finished at about midnight. At 2am, I went to Frankfurt airport, arriving there at 3:15am.
After a 4 hour wait the flight took off at 07:35 and I arrived in Las Palmas at 11am and, eventually getting home at 12:30pm.
After being awake for almost 40 hours, I eventually got to bed at 23:55 Sunday night absolutely tired.
Finally, I have to say a big THANK YOU to Wolfy Ziegler who first of all, invited me to go to Germany to play but second, the way that he looked after me while I was there…being a tour guide, bringing me the medicine that I needed, playing some wonderful bass guitar and lastly, for being a great and true friend.
Thank you Wolfy.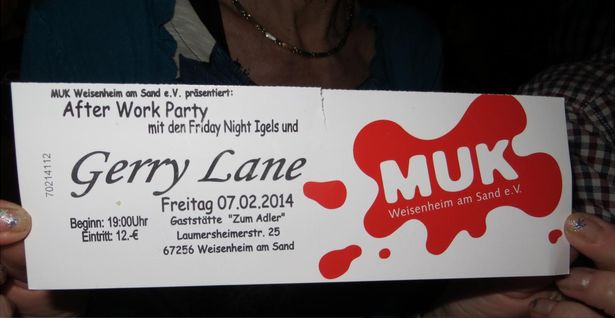 Wolfy Ziegler                                Gerry Lane                              Armin Rühl                                 Peter Stahl
The Writing's On The Wall from Gerry Lane on Vimeo.